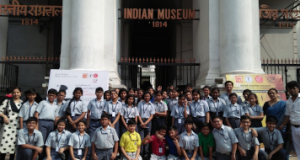 An educational trip was organized for the pupils of class VI on 31 October 2019.
The trip was also a part of a project the pupils are currently working on for the International School Awards.
The pupils were taken to all the sections of the Museum. They took notes and interacted with the guides. They found special interest in the Egyptian Gallery as they are working on a project on Civilizations. Other galleries that drew their attention were Siwalik's Fossils Gallery, Botanical Gallery, Textile and Mask Galleries and Reptile and Amphibians Gallery.
The pupils answered a questionnaire after the visit as a part of the ISA project.