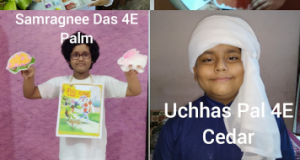 Click here or the image above to view the images
Results:
1st : Samragnee Das 4E (PALM)
2nd : Ayaan Duttagupta 4F (OAK)
3rd : Samriddhi Debnath 4A (PALM)
Adishree Das 4D (CHINAR)
Oyshee Mitra Chakraborty (CHINAR)
House Position:
1st : Chinar
2nd : Palm
3rd : Oak
A Story Telling Competition was held by the students of Class IV on Saturday, 22.08.20 on a digital platform. Twenty four students using props were given a minute  during which they had to narrate a story. It was a show  of outstanding effort and coordination  of the students, teachers and Housemistresses. The young talents spoke with enthusiasm and skill as they conveyed beautiful messages through their stories. A big Thank you to  all the parents for their help with the props which was an added bonus.
Mrs. Kavita Guha, the Pro- Rector of the school was the honourable judge for the event..The Principal , Mrs. Rajashri Biswas and the Vice- Principal Mrs. Sharmila Mazumder were also present to cheer and support the pupils.