Celebrating the life and works of Stephen Hawking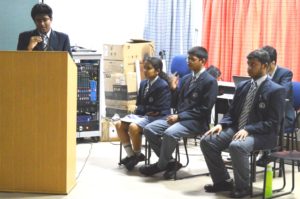 Garden High School organized a seminar on the life and works of Stephen Hawking on 26 April 2018. The event was presided over by the chief guest Dr. D P Duari, Director, Research & Academic, M. P. Birla Institute of Fundamental Research, M. P. Birla Planetarium in the presence of the honourable Rector of the School. The audience included the pupils of Classes X-XII along with teachers and other senior members of the School. The event began with a presentation researched by the students of Classes X and XII. The 30-minute presentation dealt with the concepts of singularity, infinite curvature of space-time and the Hawking Radiation among others with an emphasis that mind is the greatest of all human gifts.
A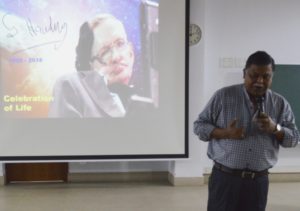 fter the captivating pupil's presentation, Dr. Duari took the audience in his stride with a captivating walk-through of black hole dynamics. Starting with how the black holes were formed to how it would feel if one fell inside one of them, from the distortions of space-time to the core concepts of the size of the Universe, Dr. Duari held the attention of the audience with his natural eloquent style.
On a whole, it turned out to be an educating as well as an equally entertaining seminar for all present in the audience.  It seemed that the gravity of the black hole could finally manage to suck in the attention of the audience.
GHS Presentation Team:
ADRIJA  ADHIKARY | ANKAN  NATH | ANUBHAV  GOSWAMI | ARITRA  CHATTERJEE | ARUNAVA  GANTAIT
GHS Research Team:
AARYAMAN  CHOUDHURY | ABANTIKA  DUTTAGAUR | MD MERAJUDDIN  AHMED | OISHI  MALLICK GANGULY | PRADYUNAN  AGARWAL | RAI  CHAKRABARTI | RIDIN  DATTA | SOHAM GANGULY | SOOSAN SHABNAM | GHS PRESENTATION TEAM
For more pictures please visit the Gallery here.