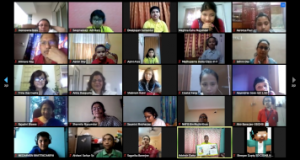 Click here or the image above to view the images
Results:
1st : Aaron Dey 5B (Oak)
2nd : Aayendree Bose 5D (Oak)
3rd : Rohini Poddar 5E (Chinar)
Kalpita Mukherjee 5B (Chinar)
House Position:
1st : Chinar
2nd : Oak
3rd : Cedar
The pupils of Class V participated in an Inter- House Event on Saturday, 22.08.20 on a digital platform. The theme for the event was, 'One thing you would like to change about the world'.
Six pupils from each house were selected for the final round which consisted of twenty four contestants.They displayed their placards and spoke on various topics like water conservation, afforestation,racism, greed,pollution , eradication of poverty and much more. Our young learners reminded us about the importance of education and how to stand up against bullying.
The judges who graced the event were: Mr. Amitava Nag ( Director- Planning and Systems) and a senior teacher , Mrs. Sunitha Bhat. 
Mrs. Rajashri Biswas ( Principal) and Mrs. Sharmila Mazumder ( Vice- Principal) were also present to cheer the pupils.