Holiday for Fateha–Dwaz-Daham on Wednesday, 21 November 2018
ACAD/SR/0151/121118
NOTICE: Nursery I to Class XII
All departments of the School will remain closed for Fateha–Dwaz-Daham on Wednesday, 21 November 2018 instead of 19 December 2018 as notified earlier.
By order
Principal
12.11.2018
2019-20 NURSERY I – PREPARATORY : PROVISIONAL ADMISSION SELECTION LIST
NURSERY I: PROVISIONAL ADMISSION SELECTION:
a
NURSERY II: PROVISIONAL ADMISSION SELECTION:
a
PREPARATORY: PROVISIONAL ADMISSION SELECTION:
2019-20 NURSERY I – PREPARATORY : VERIFICATION OF DOCUMENTS
NURSERY I: VERIFICATION OF DOCUMENTS: 
a
NURSERY II: VERIFICATION OF DOCUMENTS:
a
PREPARATORY: VERIFICATION OF DOCUMENTS:
2019-20 ADMISSION NOTICE (CLASS I – CLASS VIII)
Admission to Class I – Class VIII
(Registered Applicants only)
A
All applicants who have already submitted a filled in Registration Form to the School Office or online will be individually contacted by the School Office regarding further action.
a
a
Kindly visit the School website (https://www.gardenhighschool.in/) on 17 August 2018 at 2:00 pm for information regarding admission to Classes I to VIII for the academic session 2019-20 in case you have already submitted a filled in Registration Form to the School Office or online.
Felicitation of toppers
The School Education Department of the Government of West Bengal felcitated all the toppers of the different Board examinations on 11 June 2018 at 12 noon at Netaji Indoor Stadium.
The honourable Chief Minister of West Bengal, Ms. Mamata Banerjee encouraged the students at the programme.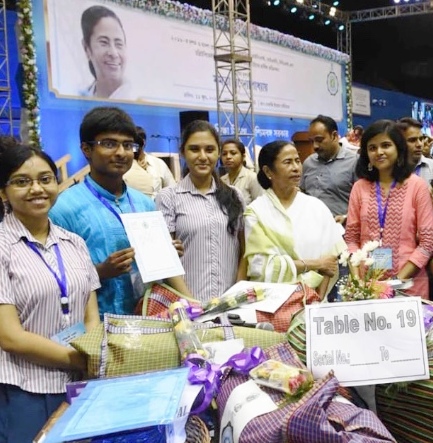 ADITTYA PAL, ARHAN MUKHERJEE and ROSHNI SINGH of Garden High School were felicitated on this occasion.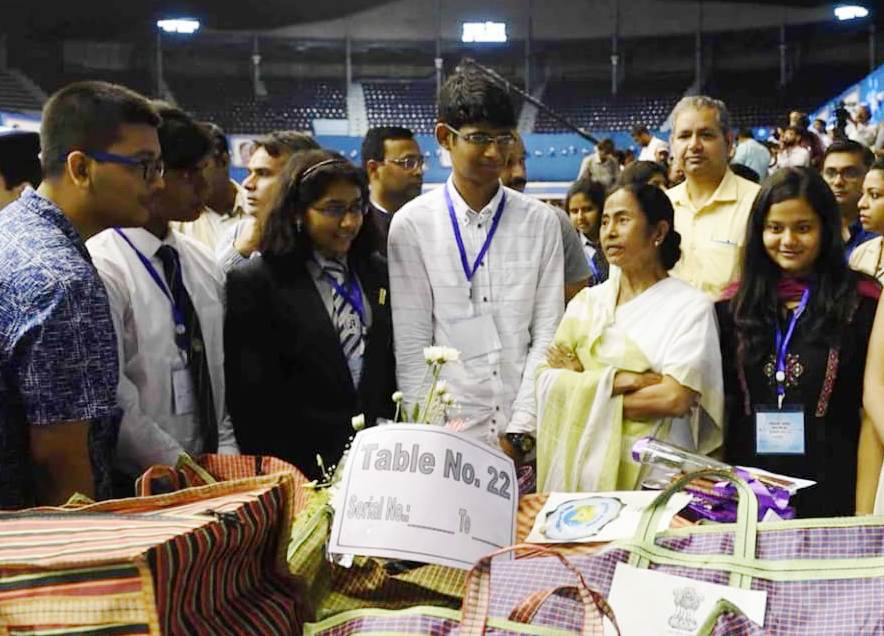 (Picture Courtesy: Guardians of GHS toppers)
ADMISSION NOTICE FOR CLASSES NURSERY I – VIII (2019-20)
*
FOR REGISTERING FOR ADMISSION TO CLASSES NURSERY I – VIII FOR THE ACADEMIC SESSION 2019 – 2020 KINDLY VISIT THE SCHOOL WEBSITE AROUND THE

END OF JULY 2018

.
---
2018 ICSE & ISC Summary of Results
Adittya Pal of Garden High School was ranked third in ISC examination 2018.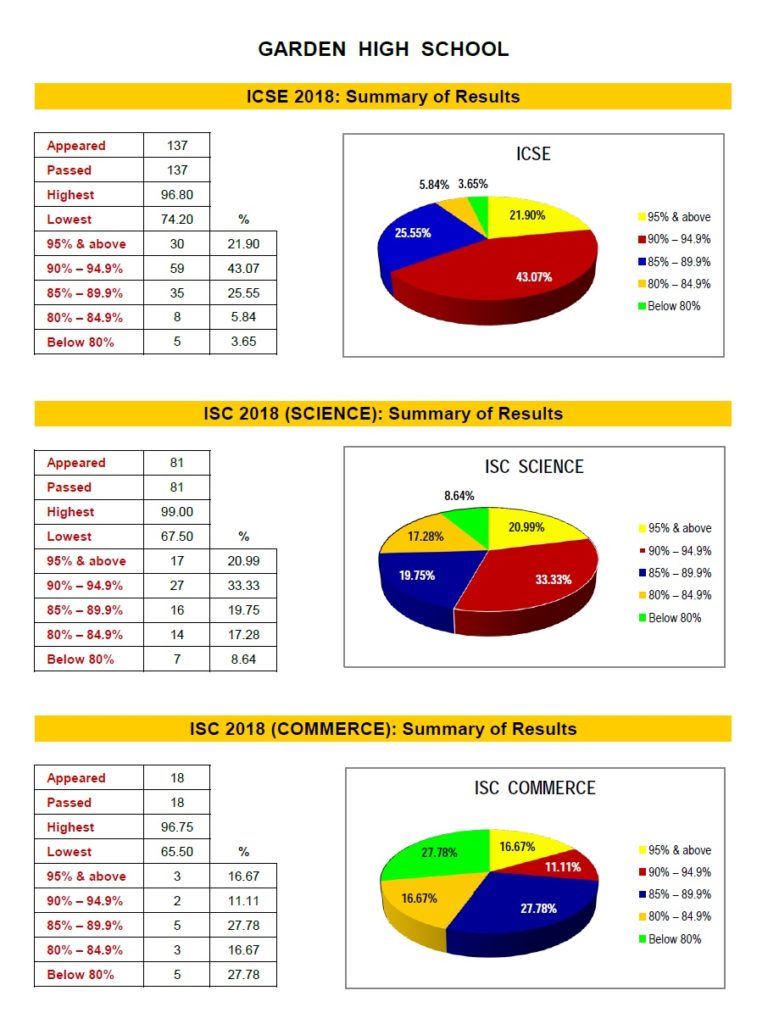 HONOURABLE CM's LETTER TO TOP STUDENTS OF ISC WHO SECURED IN EXCESS OF 98% IN AGGREGATE
Honourable CM's letter to Adittya Pal
Honourable CM's letter to ARHAN MUKHERJEE
Honourable CM's letter to ROSHNI SINGH
Honourable CM's letter to TITIR ADHIKARY
Seminar on Stephen Hawking
Celebrating the life and works of Stephen Hawking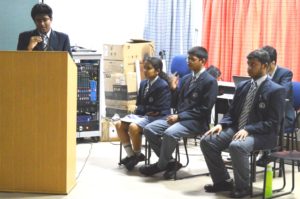 Garden High School organized a seminar on the life and works of Stephen Hawking on 26 April 2018. The event was presided over by the chief guest Dr. D P Duari, Director, Research & Academic, M. P. Birla Institute of Fundamental Research, M. P. Birla Planetarium in the presence of the honourable Rector of the School. The audience included the pupils of Classes X-XII along with teachers and other senior members of the School. The event began with a presentation researched by the students of Classes X and XII. The 30-minute presentation dealt with the concepts of singularity, infinite curvature of space-time and the Hawking Radiation among others with an emphasis that mind is the greatest of all human gifts.
A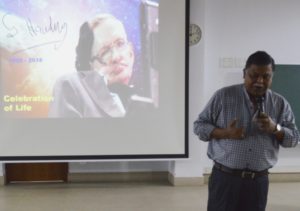 fter the captivating pupil's presentation, Dr. Duari took the audience in his stride with a captivating walk-through of black hole dynamics. Starting with how the black holes were formed to how it would feel if one fell inside one of them, from the distortions of space-time to the core concepts of the size of the Universe, Dr. Duari held the attention of the audience with his natural eloquent style.
On a whole, it turned out to be an educating as well as an equally entertaining seminar for all present in the audience.  It seemed that the gravity of the black hole could finally manage to suck in the attention of the audience.
GHS Presentation Team:
ADRIJA  ADHIKARY | ANKAN  NATH | ANUBHAV  GOSWAMI | ARITRA  CHATTERJEE | ARUNAVA  GANTAIT
GHS Research Team:
AARYAMAN  CHOUDHURY | ABANTIKA  DUTTAGAUR | MD MERAJUDDIN  AHMED | OISHI  MALLICK GANGULY | PRADYUNAN  AGARWAL | RAI  CHAKRABARTI | RIDIN  DATTA | SOHAM GANGULY | SOOSAN SHABNAM | GHS PRESENTATION TEAM
For more pictures please visit the Gallery here.
Earth Day 2018 Celebration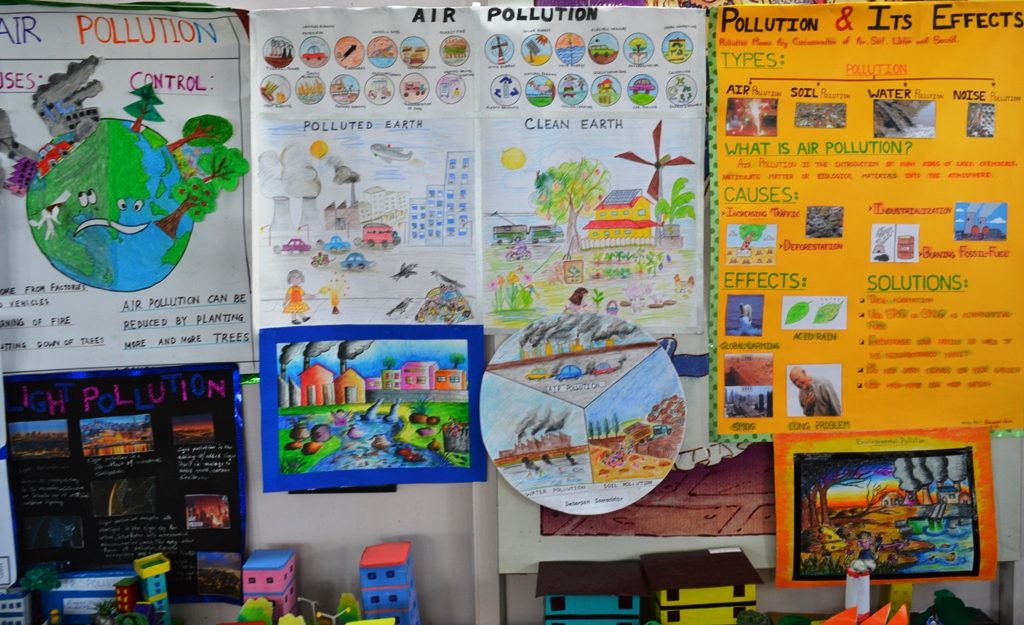 Garden High School observed Earth Day 2018 for a week (23 April – 27 April 2018) to raise an awareness to protect Mother Earth through various programmes across all the classes. The pupils of the Junior Section (Nursery I – Class II) put up an exhibition on 23 April 2018 to celebrate Earth Day. The Class Teachers spoke at length about its importance and under their guidance the pupils prepared colourful charts and models particularly portraying the hazards of pollution. The exhibits also highlighted the importance of reuse and recycle by making them out of waste materials.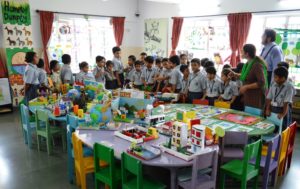 The pupils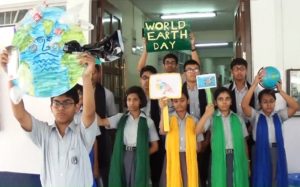 of Senior Section (Classes III – XII) observed Earth Day throughout the week via different performances during the Assembly time. 'Being Kind to Others' was one such that dealt with going beyond friends and families and doing something for the Mother Earth. Pupils also put up skits to stress on the hazards of plastic pollution and alternate ways to circumvent the problem.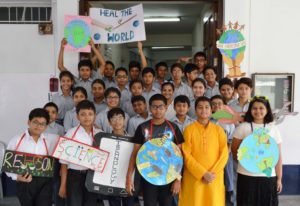 'Heal the world' was a conversation between 'Earth-1950' and 'Earth-2018' where the former warned the latter of its impending destruction. Pupils came up with ways to revive 'Earth-2018' with the help of Science, Technology and Reasoning.
The pupils of the School pledged to be aware of our environment and to bring happiness to Mother Earth by making her green and beautiful.
For more pictures please visit the Gallery here.
Commonwealth Story Writing Competition Results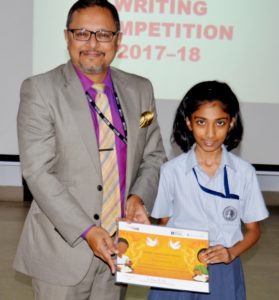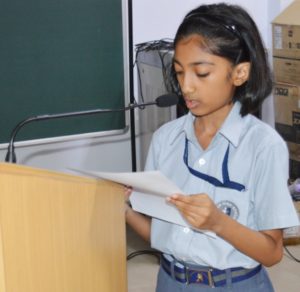 Iravati Mukherjee of Class IV Section C had participated in the Commonwealth Class Story Writing Competition 2017-18 and her story was adjudged to be in the 'highly commended' category for the age group of 7-10 years old.
Over 1,500 children from a host of Commonwealth countries around the world took part in the 2017-2018 competition, submitting moving and thought-provoking stories on the theme of peace.
Iravati's story can be read on this link.
Dr Debanjan Chakrabarti, Director East and Northeast India, British Council Division, British Deputy High Commission came over to School on 26 April 2018 at 10 am to hand over the certificate to Iravati.
Iravati read out her story in front of all her classmates of Class IV. Her friends liked her story and applauded spontaneously. Dr. Chakrabarti congratulated Iravati and urged the other students to participate more into similar competitions in the future.
Ms. Rajashri Biswas, Principal addressed the pupils and encouraged them to be inspired by Iravati's achievements.
Congratulations to Iravati.
CHECKMATE 2017
Garden High School in association with Dibyendu Barua Chess Academy organized CHECKMATE 2017, an Inter-School Chess Championship which was held on the School premises on Saturday, 11 November 2017.  Ten schools participated in the competition to make the event a memorable one.  They were Birla High School (Boys), South Point School, Future Hope School, Future Foundation School, The Heritage School, South City International School, Ashok Hall Girls H.S. School, Mahadevi Birla World Academy, Shri Shikshayatan School and Garden High School.  The participants included pupils from Classes V to XII.
The Principal, Mrs Rajashri Biswas, declared the tournament open with a welcome speech.  She mentioned that Chess is not just a game but also a lesson for life.  As the rapid chess tournament began there was excitement all-around.  Four rounds were played by each participant.
Grandmaster Dibyendu Barua graced the occasion and gave away the prizes.  The winning team was Garden High School.  South Point School emerged runner-up.  Birla High School for Boys came third.  Each board had an individual winner and a runner-up.  Garden High School, being the host school, handed over the Champion's trophy to the runner-up South Point School.  The tournament came to an end with a vote of thanks by the Vice-Principal.
For pictures check out the Gallery
Baithaki Series – October 2017
Satikanta Guha Foundation and MATRA (The Music Academy for Tabla Research by Pt. Anindo Chatterjee) organised a classical music concert at Garden High School Kolkata on Saturday, 07 October 2017, at 5.00 pm.
The concert titled Baithaki Series had performances from eminent sarod player Pt Partho Sarodi accompanied by Pt Anindo Chatterjee and vocal by Nabanita Chowdhury accompanied by Rupak Bhattachariya.
The evening programme started off with table by 4 students of MATRA. The programme was graced by eminent musicians of Indian Classical music including Ustad Rashid Khan and Pt Tejendra Narayan Majumdar among others.
For pictures check out the Gallery at the Satikanta Guha Foundation website.
3-day Tabla Workshop
The three-day Intensive Tabla Workshop organised by Satikanta Guha Foundation and MATRA (The Music Academy for Tabla Research by Pt. Anindo Chatterjee) ended in grand style at Garden High School on Monday, 24 July 2017.
The Workshop was inaugurated by Pt Anindo Chatterjee on the morning of 22 July 2017.  On behalf of the Satikanta Guha Foundation, Sm Ratna Bose delivered the welcome speech and Sri Anubrata Chatterjee and Sri Haridas Alankode also addressed the audience.  Dr Anuradha Das, Academic Advisor of Satikanta Guha Foundation, compered the programme.
About 40 selected students from different states of India (Kerala, Karnataka, Rajasthan, Delhi, Maharashtra, West Bengal, Orissa), Bangladesh and USA participated in the workshop.  Pt Anindo Chatterjee and Sri Anubrata Chatterjee personally trained the students on all the three days showing them the nuances of Tabla playing, how to play solo, how to play as an accompanying artist, etc.   It was a rich and enduring experience for the students.
There were performances by eminent artists on all days after the classes.  There were Tabla solos by Pt Anindo Chatterjee, Sri Anubrata Chatterjee, Ms Ratnashree Iyer, Sri Sandip Ghosh and Sitar by Sri Ayan Sengupta, Santoor by Sri Haridas Alankode and vocal by Sri Sreenath Nair.  Sarod player Pt Tejendra Majumdar,  Tabla players Pt Parimal Chakraborty, and Pt Subhankar Banerjee were felicitated on the occasion.
For more pictures check out the Gallery at the Satikanta Guha Foundation website.
For Press coverage of the event check out here.
For videos check out the Video page.
NEW ADMISSION NOTICE 2018-19 (INCLUDING FEE STRUCTURE)
For the Academic session 2018-19, the age requirement for each class (up to Class II) is given below:
Nursery I (born between 01 April 2014 to 31 March 2015, both days inclusive)
Nursery II (born between 01 April 2013 to 31 March 2014, both days inclusive)
Preparatory (born between 01 April 2012 to 31 March 2013, both days inclusive)
Class I (born between 01 April 2011 to 31 March 2012, both days inclusive)
Class II (born between 01 April 2010 to 31 March 2011, both days inclusive)
For Fees structures please refer here
2017 ICSE & ISC Summary of Results
Students' achievements at Inter-School Competitions