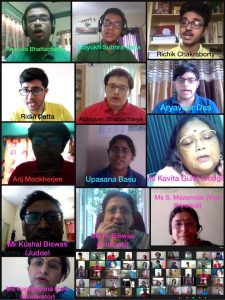 Garden High School hosted a virtual Inter-House debate for classes 11 and 12 on 5 September 2020. The motion of the house was "Money Over Morals Any Day".
The participants were Arunava Bhattacharya(11-B) and Mayukh Shubhra Saha(12-A) representing Chinar House, Ridin Dutta(12-A) and Richik Chakraborty(12-A) representing Cedar House, Abhigyan Bhattacharya(12-A) and Arij Mookherjee(11-A) representing Oak House and finally, Aryaveer Das(11-B) and Upasana Basu(12-C) representing Palm House. The debate was moderated by Ms. Kajalnayana Hore and the timekeeper was Zubin Ghosh(11-A).
The honourable judges were Ms.Kavita Guha (the Pro Rector)and Mr. Kushal Biswas. The audience comprised the Principal of the school, Ms. Rajashri Biswas, the Vice-Principal, Ms. Sharmila Mazumdar, and the house mistresses of all the four houses. There were two reserves from each house, ready to step in case of poor internet connectivity. They were Sanjeevani Sen(12-B) and Shubhrajit Bhattacharya(12-A) from Chinar House, Abhrajit Bhattacharya(12-A) and Shaon Malik(11-A) from Cedar House, Barsha Poddar(12-B) and Srijit Kundu(11-A) from Oak House and Saranya Roy Chowdhury(11-A) and Riti Dey(11-C) from Palm House.
The debate went smoothly with no technical issues and all the participants waited eagerly to fight it out. The speeches were well researched and very well delivered with each side bringing up pertinent points. It was a very tense and exciting debate and a brilliant way to remember Teacher's Day amidst the global pandemic.
RESULTS
BEST SPEAKER: 1ST : ARUNAVA BHATTACHARYA 11B (CHINAR)
2ND : RICHIK CHAKRABORTY 12A (CEDAR)
3RD : UPASANA BASU 11C (PALM)
HOUSE POSITIONS
1ST : CHINAR
2ND : CEDAR
3RD : PALM