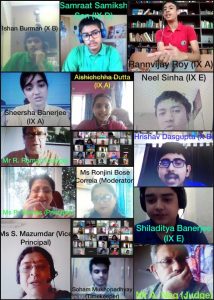 Motion: Animal Testing Should Be Banned
GHS organised an Inter-House Debate Competition on Zoom on 05.09.2020. Chinar House was represented by Ishan Burman (X B) and Samraat Samiksh Sen (IX D), and supported by Damayanti Datta (IX E) and Anuratna Banerjee (IX E) as reserves. Sheersha Banerjee (IX A) and Neel Sinha (IX E) were the participants from Cedar House, with Soumee Bhaumik (IX D) and Tanisha Mal (IX A) as reserves. Aishichchha Dutta (IX A) and Rannvijay Roy (IX A) represented Oak house, and were supported by Anwesha Pal (X A) and Debaprabha Thakur (IX A) as reserves. Palm house was represented by Hrishav Dasgupta (X B) and Shiladitya Banerjee (IX E), with Ritam Nag (X D) and Krityali Sau (IX D) as reserves.What followed was an hour of intense debate and thought provoking arguments both for and against the motion. Both sides of the argument that animal testing should be banned were extremely well thought out and convincing, and the participants put their best foot forward in this war of words.
The debate was moderated by Ms. Ronjini Bose Correia, while Soham Mukhopadhyay kept time. The judges for the event were Mr. S.V. Raman and Mr Amitava Nag.
Mrs. Rajashri Biswas (Principal) and Mrs. Sharmila Mazumdar (Vice Principal), as well as teachers and Housemistresses were present to support and encourage the participants.
RESULTS
BEST SPEAKER: 1ST : SAMRAAT SAMIKSH SEN 9D (CHINAR)
2ND: ISHAN BURMAN 10B (CHINAR)
AISHICHCHHA DUTTA 9A (OAK)
RANNVIJAY ROY 9A (OAK)
HOUSE POSITIONS
1ST : CHINAR
2ND : OAK
3RD : CEDAR