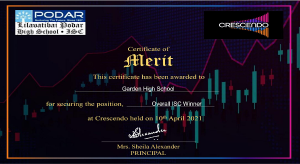 Crescendo  was an online business fest hosted and conducted by Lilavatibai Podar School, Mumbai. It was held on 10 April 2021. One had to apply the knowledge acquired in economics and commerce along with current affairs and reasoning to participate in events like real life monopoly, stock exchange and creating brands.
Students of Garden High School, Class 12 Commerce, participated in the fest and won the first position as overall National ISC Winners amongst 25 other participating schools.
OVERALL ISC WINNER – GARDEN HIGH SCHOOL
ISC – Fortune It – 1st
Yajinn Sharma
ISC – QCD Express – 2nd
Aagnik Pandey
Crescendo Stock Exchange – 2nd
Rohitashwa Chakraborty
Aryan Agarwal
Anirban Banerjee
Siddharth Banerjee
ISC – AD VISION – 3rd
Aatmashri Sanyal
Shreya Sutradhar
A big round of applause for all the winners. Congratulations!