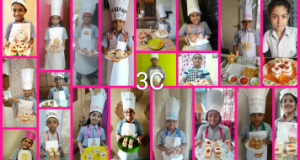 Click here or the image above to view the images…
Class teachers of class III organized a non-fire cooking activity in their respective sections just before the school closed for their Durga Puja vacation. The students made sweet and savoury food items during class with the help of their class teachers. It was held on the Zoom platform. The children had been informed about the required ingredients earlier. On the day of the class each child had arranged the ingredients nicely on their tables and were ready for the class to begin. No fire was used in the process of preparing the dishes. The students worked with excitement with their teacher as she showed them the process.
Class IIIA made Papdi Chat and Fruit Salad. Class IIIB turned out with an innovative Biscuit Pudding. Class IIIC came up with tasty Masala Sandwich. Class IIID also made a sandwich naming it Veg Sandwich. Class IIIE presented Fruit Dessert Cups. Class IIIF also made a dessert called Mud Rocks.
The children enjoyed making dishes on their own and relished them later too. It was a great learning experience for them which brought out their creativity and made them understand the value of food.