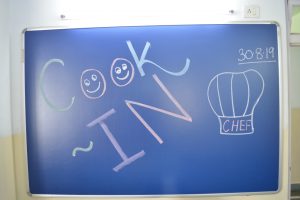 View Image Gallery
The pupils of the Primary Section of GHS have been working on a project on healthy eating entitled 'Eat the best and leave the rest' during their EVS lessons. The project ended with a tasty 'Cook-In' on 30 August 2019 based on healthy food items. The pupils from Nursery I to Class II prepared their midday snacks themselves under the guidance of their respective Class Teachers.
Nursery I prepared 'Muri Magic'.
The 'Yummy Corn Chaat' was a rage with Nursery II.
The Preparatory Class prepared 'Healthy Burger Delight' with onions, tomatoes and cucumbers with a dash of cheese.
The little chefs of Class I prepared 'Chatpata Chana'.
Class II made wholesome 'Roti Rolls' with home-cooked fillings of their choice.
The event was truly a learning and enjoyable experience for all the pupils.