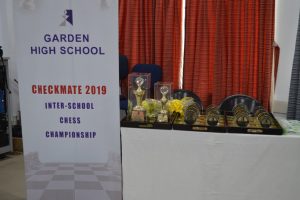 Garden High School in association with Dibyendu Barua Chess Academy hosted the Inter-School Chess Championship on 19 October 2019. The programme was officiated by the School Rector Mr Indranath Guha. The chief arbiter was Mr. Debashish Barua. 14 schools participated in the event.
GHS was declared as the winner. The winning team was represented by Saanket Das (Class VII F), Aniruddh Chatterjee(Class IX C), Arunava Bhattacharya (Class X C) and Koustav Chatterjee (Class X A).
South Point High School bagged the runners-up prize. The members of the SPHS team were Rounak Pathak, Aditya Basu, Shounak Mazumder and Soham Bhattacharya.
Mr. Dibyendu Barua gave away the prizes.