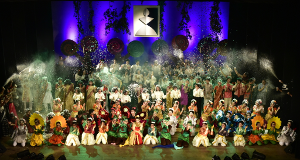 Click to View Image Gallery
The Annual Prize Distribution Ceremony for the academic session 2018–19 was celebrated on 7 and 8 May 2019 at Kalamandir.  The pupils put up a cultural programme for the parents which also included the prize distribution ceremony for Classes III to XII.
The programme commenced with an inaugural music 'Transoceanic' composed by Mr. Anupam Halder and Mr. Gourab Sen, both music teachers of GHS.  This was followed by lighting of the lamp by the Rector Mr. Indranath Guha
A classical vocal recital was then presented by pupils followed by the Principal's speech by Ms Rajashri Biswas who addressed the parents and the pupils.
'The Refund', a hilarious English play directed by Pro Rector Ms Kavita Guha captivated the audience. GHS teachers Ms Ronjini Bose Correia, Ms Trina Dasgupta and Ms Gangotri Banerjee provided valuable assistance in the final production of the play.
The august Prize Distribution ceremony ensued soon after followed by GHS choir mesmerizing the audience with 3 songs in Hindi, English and Bengali.
The last two events of the evening were dance recitals 'Rhythmix' and 'Garden of Joy'. The dance recitals were choreographed by Miss Aishee Ganguly and Ms. Meghna Guha Majumdar respectively, both teachers of GHS.
The programme ended with the Grand Finale and the National Anthem.